Advanced Commercial Acting & Auditioning Workshop: Taking What You Have Learned To The Next Level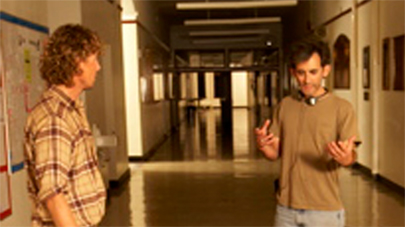 Please Note: This Workshop is ONLY for students who have completed the Complete On-Camera Commercial Acting & Auditioning Workshop.
TIME FOR THE REAL DEAL: In this 5-week Advanced Workshop, we will take the newfound skills and lessons you acquired in our Complete On-Camera Commercial Acting & Auditioning Workshop and directly apply them until you no longer have to think about them logically, but embrace them organically. You will learn how to work with other actors in both group scenes and one-on-one, as well as explore both comedic and naturalistic copy, interpreting and taking direction from different clients and directors, navigating a highly choreographed audition (i.e. hitting your marks, reading your copy, dealing with props, interacting with other actors –all at the same time while maintaining the flow!) as well as exploring scenes without any dialogue at all. In addition, we will also recreate different auditioning scenarios and settings to challenge yourself further and get a feel for what it's like to audition in the real-world!
PRACTICE & EXPERIENCE: It's one thing to understand the tools you have learned, it's another to apply them naturally. This requires practice and experience. Like learning to play guitar, one starts out by physically placing each finger on each string to eventually create a chord. Over time and with committed practice, your fingers start to find their own way to those appropriate strings; each chord becomes easier until, at last, making those chords becomes second nature and, ultimately, those chords are turned into music.
That's when the real FUN begins!
With all this under your belt, you will be more than prepared to show casting directors, directors and clients what it is you truly have to offer and why you are uniquely qualified for the roles you are auditioning for.
You will also be included in my monthly Newsletter to casting directors and agents showcasing the current headshots and professional contact info for all my students, as well as select video highlights showcasing you at your best!
What You Will Learn In This Workshop:
How to find the truth of yourself in ANY piece of copy, ANY scenario, ANY character. 
How to develop timing skills while working with a partner to create the proper rhythm and pace. 
How to embrace and perfect your unique speech patterns and body language so that every word and gesture speaks the truth. 
How to prepare for the unexpected. Working with other actors can yield unforeseen obstacles and/or gifts. How to harness the energy you're being given and make it work for you in the moment.
How to turn a handful of tools into an arsenal of tools.
How to allow each and every tool and every lesson become an innate part of your approach to acting and auditioning.
How to trust your instincts and emotions and not let your "head" talk you out of doing something your "heart" feels is right. In other words, how to "get out of your own way and do the work!"
How to enter the audition room and not just "act" confident, but actually "be" confident. 
How to work with a partner in a scene, regardless of whether or not they are a "perfect match."
How to make sure your first take gets Casting Directors excited to see more. 
How to truly handle almost any audition room scenario no matter how odd, imperfect, distracting or outright disrespectful it may seem. 
How to make sure the Casting Director, Director and Clients get a "feel" for who you are and what you bring to the table even if there is little-to-no opportunity for them to see it in the actual "audition" moment. 
How to be a professional at all times and in all situations. 
How to turn a negative room into a positive one and why this will help you book jobs and create fans that are committed to getting you work. 
How to captivate your audience before you've even opened your mouth. 
How to "own" the audition room.  
How to enjoy yourself and have fun (even if no one else seems to be!). 
How to turn EVERY SINGLE AUDITION into an opportunity for MORE auditions, MORE work and MORE personal satisfaction!